As a pioneer school we are very privileged to be working alongside the Welsh Government in writing the new curriculum for Wales. This is an exciting time for us and we are extremely proud of the work that we have done.
Our personalised 'Climb to Sparkle' curriculum was created with input from governors, staff and pupils and is topic based. Our curriculum takes full advantage of the range of resources we have available to us, including the local community. Each term pupils are involved in creating and planning their topics, sharing ideas of what they would like to learn ensuring that each topic is relevant to our pupils. All of our topics are skills based and incorporate the Literacy and Numeracy Framework and the Digital Competency Framework.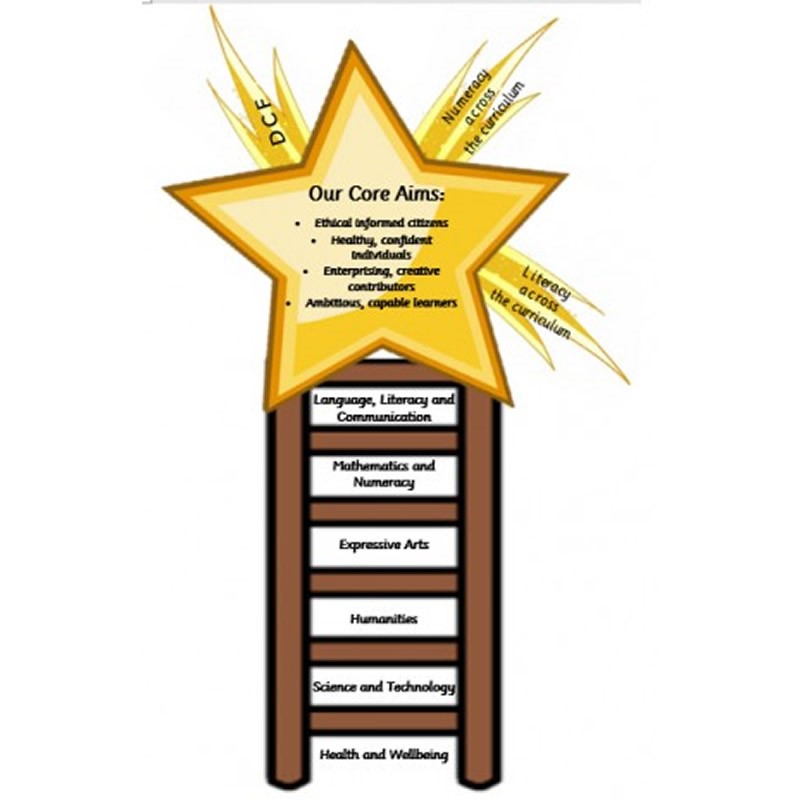 The New Curriculum for Wales
The new curriculum for Wales will be designed to help all young people in Wales develop in relation to 4 Core Purposes.  These purposes will ensure that children and young people develop as;
ambitious, capable learners, ready to learn throughout their lives

enterprising, creative contributors, ready to play a full part in life and work

ethical, informed citizens of Wales and the world

healthy, confident individuals, ready to lead fulfilling lives as valued members of society
The new curriculum will be structured into Areas of Learning and Experience (AoLE) which contribute to the development of the 4 Core Purposes.  These AoLEs signal the importance of educational experiences as an integral part of the curriculum.  The six AoLEs will be as follows;
Language, Literacy and Communication

Mathematics and Numeracy

Science and Technology

Health and Well-being

Humanities

Expressive Arts
As a school we have already started to incorporate the 4 Core Purposes and the new Areas of Learning and Experience into our curriculum.  Our new strategic vision was developed with staff, governors and pupils focusing on how the 4 Core Purposes are embedded into our school ethos.  We have also ensured that our personalised 'Climb to Sparkle' curriculum provides opportunities for our pupils to take part in rich and meaningful educational experiences to enhance their learning.
More information can be found here
Areas of Learning and Experience at Garnteg
Language, Literacy and Communication
Pupils have taken part in a newspaper project to develop their literacy skills in a real life context.  Pupils were set the task of creating newspaper articles alongside other schools in the Abersychan cluster.  Some of these articles were then published in the Free Press Newspaper as part of a special supplement.
Mathematics and Numeracy
Pupils have taken part in a Maths project alongside other schools in Abersychan and Croesyceilog Cluster.  The aim of the project was to develop awareness of financial literacy while developing pupils mathematical skills.
Science & Technology
Pupils at Garnteg are encouraged to use our fantastic recording studio.  Pupils are able to plan the projects they want to carry out in the studio.  These are then filmed and later edited by our pupils ready to share with the rest of the school.
Pupils take part in the annual F1 in schools competition.  This involves designing merchandise and cars for their F1 team as well as contacting potential sponsors and managing a budget.
Humanities
At Garnteg we have excellent links with our local community.  Every year Year 5 and 6 pupils take part in a memorial walk to the Blenheim Bomber crash site alongside members of the local history group.  This is a fantastic opportunity for our pupils to learn about the history of their local area.
Expressive Arts
At Garnteg pupils enjoy playing instruments, singing, dancing and acting.  Pupils enjoy writing and performing their own class assemblies, Christmas concerts and end of year concerts as well as designing and creating their own costumes using our sewing machines.
We have fantastic artists at Garnteg who love to produce pieces using different artistic media.
Health & Wellbeing
All pupils take part in the Daily Mile as well as mindfulness sessions, and practicing yoga and Tai Chi.